Each year, PorcFest is coordinated by a tireless volunteer team that gets started months ahead of time to ensure this amazing week-long festival runs smoothly and offers something for every liberty lover. Meet the members of the team behind PorcFest XI, and when you run into them at Roger's, please say thanks! Or offer bacon; bacon works, too.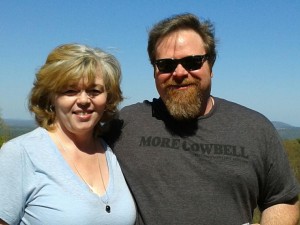 Christine and Dave B. are the Lead Organizers of PorcFest XI, and as you can see by Dave's T-shirt, they intend to bring MORE COWBELL! They first discovered the FSP online while looking into moving to Maine from North Carolina; fortunately, they saw the error of their ways and moved to New Hampshire instead, becoming movers #677 and 678. Dave is an account manager, and Christine is a former florist and event planner. They've been happily married for 25 years and have a 30-year-old son and a 23-year-old daughter. They now live in Nashua, where they feel very welcomed by the Nashua Porcupine community and consider many like family. They're regular attendees at the weekly Nashua Liberty Social. Christine and Dave attended their first PorcFest in 2012 and loved the laid-back feel of the event. Their plan for this year's PorcFest is to capture a more festival-like feel, with more music, parties, and educational opportunities focusing on self-reliance and DIY. They look forward to welcoming you to PorcFest XI!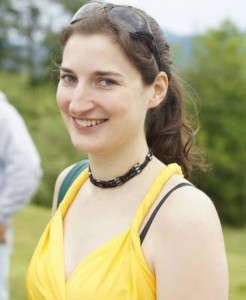 Carolyn A. escaped from Taxachusetts in 2013 and immediately dove head-first into liberty activism in New Hampshire. After serving as Courtesy Tent Coordinator at PorcFest X and managing Special Guest Logistics for Liberty Forum 2014, she just couldn't get enough, and is back on both fronts for PorcFest XI! She relaxes by coordinating group outings for dozens of her friends, such as the recent Penn & Teller show in Boston attended by 70 Free Staters.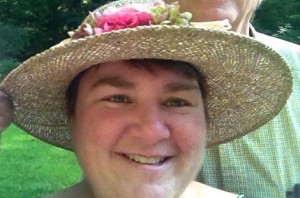 Kristine B. moved from San Diego to New Hampshire in 2012, after signing the FSP SOI back in 2002. She provides weekly admin assistance for the FSP President and handles special projects for FSP events, and will manage Special Guest Relations and the offsite donors event at PorcFest XI. Kristine is an entrepreneur who has started and owned two businesses over the past 15 years. If you have a knitting question, find Kristine; she'll set you straight.
Marcus C. (far right) is a web designer/developer, artist, and musician and produces the daily web comic Brainless Tales. He has created the PorcFest logo 2 years in a row for PorcFest X, and XI. He is in charge of Graphics and Web Design for the festival. Originally from New Jersey, Marcus has lived in New Hampshire since 2012 and has performed music at each PorcFest since his first in 2009.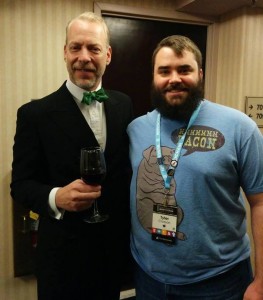 Tyler C., a social media marketing professional, escaped from "Communist Connecticut" in 2013 and immediately became very involved with the FSP, helping to plan PorcFest before he'd even attended his first! He has run for local office and is looking to run for state office in the future to help secure more liberty in our lifetime. He is this year's Vendor Coordinator and oversees Agora Alley, which is shaping up to be bigger than ever!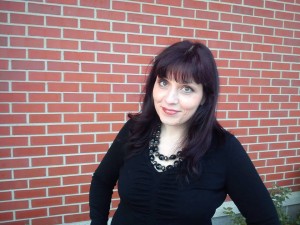 Theresa E., our Registration Coordinator, is an unintentional Free Stater. During her statist days, she thought it would be great to sign up "just to be connected with other libertarians." Theresa connected with the Free Staters through her involvement with the Occupy movement and has never looked back. She now blogs at groundingtheresa.com and is co-host of the Sex, Lies & Anarchy podcast. She fancies herself a wanna-be farmer who has a dream of growing her own food and teaching others to do the same.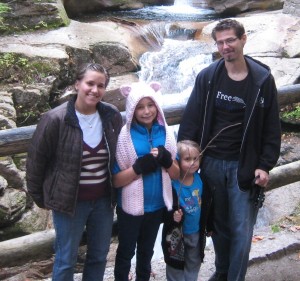 Melanie and Richard G. and their children, Oshyn and Darwin, moved from Michigan to New Hampshire three years ago and, having their closing date pushed back to inconveniently coincide with PorcFest, consequently recommend avoiding June moves altogether. Richard writes software for Dyn in Manchester while Melanie naps at home all day, neglecting the children, the chickens, the house, and the yard. Melanie likes to shoot, crochet, and read (when awake); Richard likes to run and contribute unpaid development time to the jQuery Foundation. The whole family can frequently be found enjoying Nintendo games and Lego construction at home, or helping unload moving trucks into Free Stater homes. Melanie and Richard are the Kids and Family Coordinators at this year's PorcFest.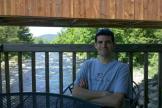 Franz H. is an early mover who arrived in New Hampshire from Maine in 2008. As a Social Media guru and the brains behind the FSP's Twitter account, his contributions are invaluable: Twitter and Facebook are now the top channels through which the FSP gets new signers. Franz will be live tweeting during PorcFest, and is hosting an "@FreeStateNH" Tweetup. Stop by and join the fun.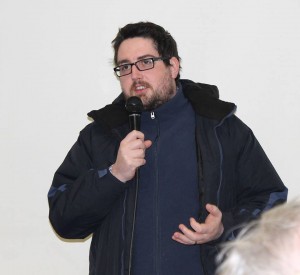 Liam L. is clearly a glutton for punishment, going directly from serving as lead organizer for Liberty Forum 2014 to Events and Speaker Coordinator for PorcFest XI.  One of the first 1000 movers, he moved from the UK in 2011 and occasionally builds software when not busy volunteering for the FSP. He and his wife Samantha are generous supporters of the Trigger the Move campaign.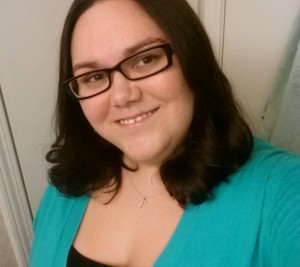 Samantha L. is Volunteer Coordinator aka Porcupine Wrangler. She's a first 1000 mover from Pennsylvania via London, U.K., and an active participant in the Nashua Liberty Social group. She attended her first anti-anti-gun protest last summer and is still learning where she fits politically. She's excited to become an FSP Doer and help show other Porcupines why NH is the place to be. She and husband Liam are proud supporters of the Trigger the Move campaign.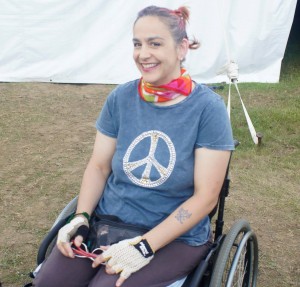 Chris L. is the Free State Project's administrator. She sends out the "welcome" letters, updates the databases, answers phone calls and emails, coordinates visitors, and provides general office assistance. In keeping with her amazing "can-do" spirit, she is the Ambassador Coordinator at PorcFest. Chris drove the recent Mover Number Update project, and is mover #50. She's a talented musician and has performed at two PorcFests.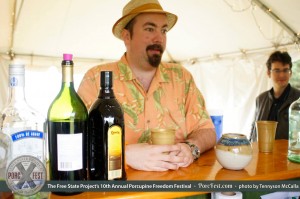 Osborne, this year's Sponsor Liaison, is not only Past Master of PorcFest and certain other NWO subsidiaries, he is also a federal contractor and political candidate – all the qualities you look for in a camping buddy. Heil Hydra!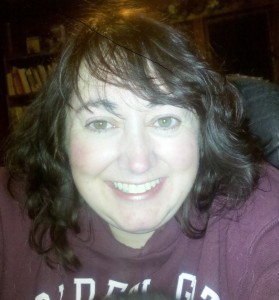 Sandy P. was mover #105 and comes from Oakland, CA. She has held a number of activist positions over the past nine years, including moderator of the Merrimack Valley Porcupines; Treasurer of the LPNH; Vice-Chair of the New Hampshire Liberty Alliance; and Secretary of the FSP.  She'll be promoting PorcFest XI via blogging and the PorcFest newsletter. Sandy is a software consultant, freelance writer, and enjoys posting pictures of her cat on Facebook and obsessive rewatching of Firefly.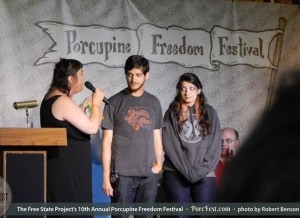 Mike and Vanessa V. moved to Portsmouth from New York City and were the lead organizers of PorcFest X. They have remained on the team as Consultants to help the Butlers master the craft of herding cats. Mike is principal of Centinel Consulting and editor of The Freecoast and The Arcadian. Vanessa practices the lost art of housewifery and runs giftable designs, a graphic-design-and-bullet-jewelry side project.