We are actively working to make your planning, travel, and stay at this year's Porcupine Freedom Festival an easy and enjoyable one with the use of some really amazing new technology.
Some highlights you should be aware of are:
Our new responsive website
Event schedule app for your phone or tablet
Ride share organized through zimride
Text notifications for events during PorcFest
New Responsive Website
PorcFest.com is all new this year and we built it to be responsive which means it will work better on more devices by automatically resizing to fit your device. Most of the site works well on tablets and phones. If you are using a desktop browser you can even try it out by resizing your browser smaller.
Schedule App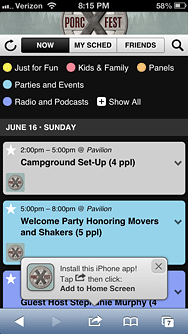 The festival schedule is being managed through a third party product called sched.org. This allows us to have a very robust, interactive, and dynamic schedule that you, the attendee, can control. You can even download the full schedule as an app that will work on your phone or tablet. Once it's been opened, it will save the information even without wifi– meaning you won't need to carry around a bulky schedule booklet once you arrive!
To install the app on your phone tap the icon to add it to your home screen like you see to the right. You can log in using Facebook or Sched to sync to your personal calendar or highlight your favorite events. You can also sync it with your iCal, Outlook, or Google Calendar by following the directions here.
On the website version you can change the view of the schedule using the drop down menu from the top left "Schedule" button. The "grid" view is a personal favorite of the organizers– when fully expanded you can really see the plethora of amazing events we have planned!
Social links alongside individual events help you promote exciting sessions to your friends and followers. Just click an individual event (you can see David Friedman's talk on alternative legal systems here for example), and then use the Facebook, Twitter, or email buttons on the far right to share.
Ride Share with Zimride
This year we are using a dedicated service to help organize ride sharing to PorcFest called zimride. You can create an account or login with Facebook to find a ride or offer a ride. If you login with Facebook it will allow others to see who you are for added security. Ride sharing has always been a bit complicated in the past, so we hope this helps simplify the process and gets as many people as possible up to Lancaster!
Event Text Notifications
During PorcFest, we are introducing a new system that will send text notifications to your phone (only if you opt in, of course) as a reminder for major events as well as for major changes to the schedule. This is a great way to stay in touch with the major goings on of PorcFest. We will only be sending a few a day and you can unsubscribe at any time.
You can subscribe when you register for PorcFest online (just click "Yes, Send Me Text Messages Throughout PorcFest"). If you skipped this step while registering, we will publish an additional way to subscribe as the festival approaches.
We're doing our best to improve everyone's experience at PorcFest X using these awesome technologies, adding great new speakers, and more. See you at PorcFest!