Welcome back to the PorcFest Prickler! PorcFest XI is now less than four weeks away, and all sorts of plans are in the works to make it an unforgettable experience. Don't forget that for daily updates, you can check the PorcFest blog and RSVP on the Facebook PorcFest event.
Register Now
Online registration ends on May 31! If you haven't purchased your ticket yet, please do so ASAP at Registration. The price is now $75 for a full week, but will increase to $100 at the door. Day passes will be available at the door for $45/day. As always, children 17 and under get in free.
In case you're wondering what your ticket price goes towards, it defrays the cost of a number of things: speaker fees for big name speakers; accommodations for some speakers; porta-potty rental; soap and TP in all of the Roger's bathrooms; tent and A/V equipment rentals. The goal is to make PorcFest so enticing that liberty lovers from around the world are motivated to attend, and then have so much fun that they'll want to join the FSP and help us Trigger the Move!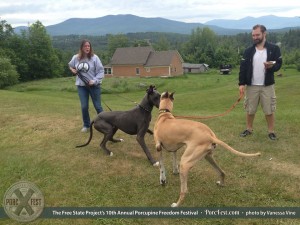 Protip: Dogs are welcome at Roger's, and judging by past years, a lot of people will bring them this year. Please remember to follow basic doggie etiquette, so all of PorcFest's attendees, both human and canine, have a fun and safe time.
——————————————————-
DIY – Do It Yourself
In addition to basic registration, there are several DIY events to consider buying a ticket for ahead of time: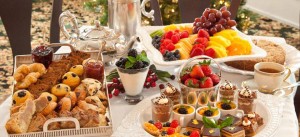 The First Annual PorcFest Brunchfest competition will take place Wed., June 25th, 10:30AM in the Pavilion. Snacks, desserts, and drinks are all allowable entries. Bribery of the judiciary is encouraged! The main goal of this event is FUN & eating up some tasty food. You will receive a score card to rate the entries on a score of 1-10. You will be judging taste, appearance, showmanship, bribes, etc.; whatever you think is most important. Your $9 entry will allow you to sample many dishes, treats, and drinks.
Build your own AR-15 Workshop – During this four hour class, you will learn to understand, build, maintain, and troubleshoot AR pattern rifles. The fee for this course is $675.00 ($699.62 w/service fee).
Knitting 101 – Come learn how to use two sticks and some "string" to make something useful and/or pretty. Knitting isn't just for women! The $17 fee covers the cost of needles and yarn.
Lockpicking 101 – Come get your MacGyver on and learn how to open locks without a key! You'll also learn about different kinds of locks and the best ones to use for your home. The $22 fee covers the cost of a pick set and practice lock to take home with you.
Natural and DIY Body Care Products – In this workshop you will learn about the dangers of chemical toxins in conventional brands of personal care products. You'll hear about alternative natural products available for toothpaste, hair color, shampoo, conditioner, body soap, shave cream, moisturizers, makeup and laundry detergent. You will create your own moisturizing lotion and toothpaste to take home.
Perennial favorite the One-Pot Cookoff now has its own website! Cook-Off contestants are reporting that they'll be creating good ol' American comfort dishes such as Beer Cheese Soup, as well as a multitude of other, more exotic cuisines: India, Malaysia, Italy, Thailand and Ireland will all be represented.  For only $9 you get to sample and judge all the dishes, practice your orienteering skills by hunting down the participating campsites, and get some exercise walking around Roger's. It really is a lot of fun and the best dining option for Thurs. June 26th, 5 – 8PM.
Note that this is just a small sampling of all the activities scheduled for this year's PorcFest. For the full schedule, visit the PorcFest website.
Protip: Bring picnic blankets with you. It'll make hanging out on the main grassy fairway more comfortable!
Keynote Speakers
There will be loads of speakers focusing on various aspect of the DIY theme at this year's PorcFest. There are too many to list here; for the full list, just go to Speakers.
The Free State Project is proud to present some fantastic keynote speakers:
Nick Gillespie – Friday June 27th 4:30PM Nick is editor in chief of Reason.com and Reason TV, the online platforms of Reason, the libertarian magazine of "Free Minds and Free Markets". He's the co- author, with Matt Welch, of The Declaration of Independents: How Libertarian Politics Can Fix What's Wrong With America. In addition to speaking, Nick is bringing the Reason.TV crew to PorcFest; keep an eye out for them!
Joel Salatin – Friday June 27th 6:00PM Joel is a full-time farmer at Polyface, Inc. and has written several books, including Everything I Want To Do Is Illegal and Folks, This Ain't Normal: A Farmer's Advice for Happier Hens, Healthier People, and a Better World. His speaking and writing reflect dirt-under-the-fingernails experience punctuated with mischievous humor. He passionately defends small farms, local food systems, and the right to opt out of the conventional food paradigm.
Patrick Byrne – Sat. June 28th 5:30PM Wired Magazine has called him "Bitcoin Messiah, CEO of Overstock, Scourge of Wall Street". In January, Overstock became the first major retailer to accept payment in Bitcoin, the increasingly popular cryptocurrency used by many Porcupines.  Don't miss an opportunity to hear this internationally famous entrepreneurial maverick speak!