The countdown to PorcFest has begun! Only 12 days to go!! Can you smell the excitement? It smells like… bacon. And freedom. Bacon-scented freedom.
Preregistrations are on par with last year's record-breaking PorcFest X. If you were unable to preregister, walk-in tickets will be on sale: $100 for the whole week or $45 per day.
Kids and Families
This year, over 160 of the attendees will be kids! The PorcFest organizing team got a sneak preview of the amazing array of fun, hands-on activities that this year's Kids and Family Coordinators Melanie and Richard G. have in store for them, and I can honestly say I'm jealous I'm not a kid! There will be scavenger hunts, marshmallow shooters, swimming and sliding, crafts, movies, and the return of the PorcOlympics, just to name a few. If you're bringing any junior Porcs this year, be sure to check out the kid options in the schedule and make time to bring your little ones to at least a few of the events. They'll have a blast!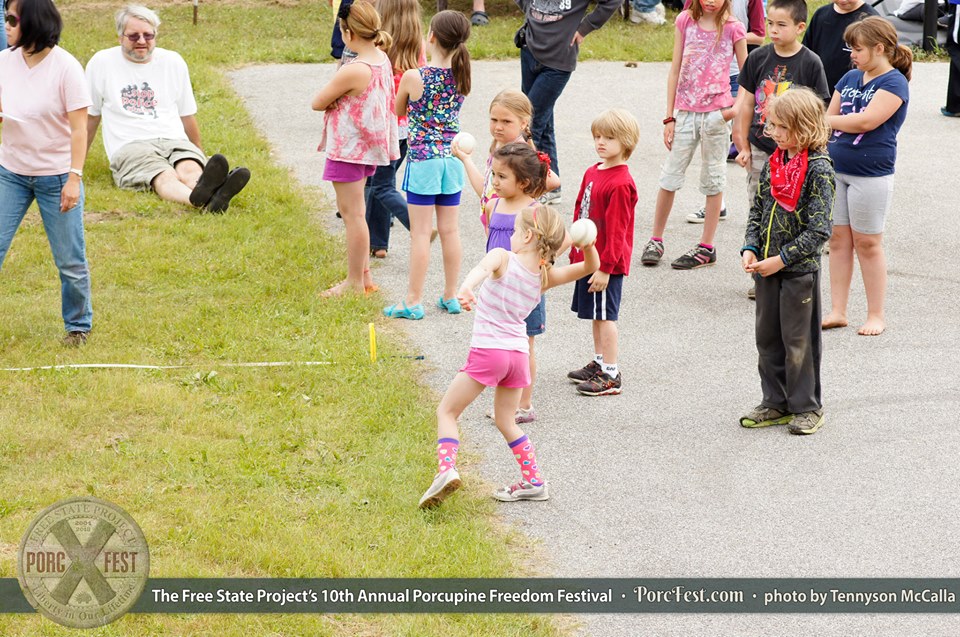 Speaking of the schedule, if you checked it out before, you should probably do so again, because there's been quite a bit of shuffling in order to make room for increasing numbers of awesome speakers and events! In addition to the keynote speakers mentioned in the last Prickler, popular liberty luminaries Jeffrey Tucker of Liberty.Me, Jeff Berwick aka The Dollar Vigilante, and Ben "Bad Quaker" Stone are all returning.
Protip: if the length and breadth of this year's schedule appears overwhelming, try clicking the word "Popular" in the right-hand column for a pared down list of the events expected to have the highest turnout. Even that list has 50 events on it, though. PORCFEST Y U SO AWESOME?!
To streamline the registration process, we will have the Registration tent set up in the water slide parking lot. Look for the big PorcFest registration signs on the main road indicating the new spot. The Registration team will get you all checked in for PorcFest, after which you can check in at the Roger's office for your campsite and be able to start enjoying PorcFest XI!
As of June 1, Roger's Campground still had some RV campsites available (FYI, you can tent camp on an RV site). Also, several people have posted on the Facebook event looking to share a campsite. If you've procrastinated on reserving a spot, get to it!
Protip: Bring bugspray! The mosquitoes are reportedly thick this year.
Longtime PorcFest attendees may be aware that there is a very limited number of cabins at Roger's. These cabins are highly coveted and are sometimes reserved a full year in advance. The PorcFest organizing team has decided to try something different next year. One of the four cabins will be reserved for the lead PorcFest organizers, as has become tradition. The other three will be auctioned off, with a starting bid of $2000. All proceeds go towards next year's PorcFest expenses. Want a cabin next year? Keep an eye on future Free State Project newsletters and the Facebook event page for info on how to place your bid. The free market will decide how this very limited resource gets distributed amongst the ever growing hordes of freedom lovers!
Sailor Jerry, known for their spiced rum and wicked tattoos, will be sponsoring this year's courtesy tent. They've donated a number of great prizes that will be given away to winners of Freedom Feud, including a BBQ grill, purses, wallets and bottle openers. Each day the courtesy tent will feature a drink of the day with a Sailor Jerry product.
Protip: When you check in at PorcFest, you'll receive a cool Porcupine-shaped car magnet that serves as your parking pass. The magnet must go under the door handle on the driver's side door. Vehicles on the campground without a magnet are subject to towing by the owners of Roger's.
Music and Comedy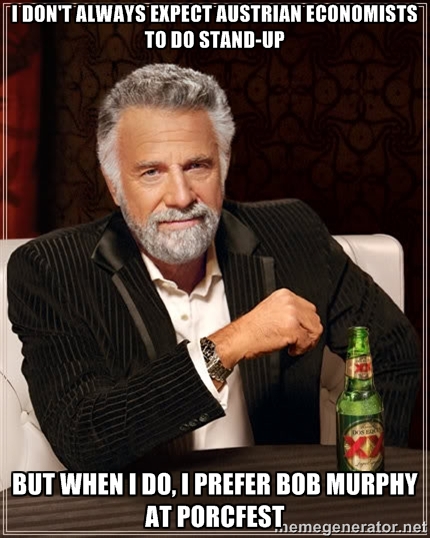 This year's PorcFest features more live music than ever before. Here are just a few of the many acts: the Auld Locals, Olde Salt, and Meadows Brothers. Pro-liberty artists Jordan Page, Tatiana Moroz and Marcus the one man band will all be returning. In addition to music, Thursday evening will feature stand-up comedy, with a combination of amateur and professional comics, followed by the return of the World's Most Interesting Economist starring in the Bob Murphy Variety Hour. Frankly, you've got to see it to believe it.
Firearms Etiquette
It wouldn't be PorcFest without guns, and this year's schedule features multiple shooting events, as well as the first-ever class on how to build your own AR-15, brought to you by Shaolin Rifleworks, one of this year's Gold Sponsors. Of course, with freedom comes responsibility, and everyone at Roger's Campground and on the PorcFest organizing team sincerely hopes that all attendees handle their firearms with the utmost care. Please check page 21 of the Free Stater magazine (there will be a copy in the welcome bag you'll receive when you check in) for tips on firearm etiquette and safe handling. You may also want to attend one of the Firearms Etiquette courses to be held throughout the week.
Agora Valley is shaping up to be gargantuan, with over 50 vendors offering a dizzying array of food, non-alcoholic beverages, liberty-themed media, products, and… things so mysterious, I can't even tell what they are by the vendor's name. You'll just have to walk through and see for yourself! Don't forget to bring plenty of silver, Bitcoin and cash, as plastic is not widely accepted. If you don't currently have any silver or Bitcoin, you should have no trouble finding both for sale in AV.
Keep an eye on the PorcFest blog and Facebook event for last minute updates. See you soon!!